Culinarist's guide to Thuwal
Thuwal is one of the most underexploited and underrated tourist destinations of Hejaz. This magnificent small town offers dozens of options for the traveller keen on buying electronics, praying, having their hair cut and, well, stuff. This page lists some of my experiences in Thuwal and tries to pay tribute to the sometimes absurd but delicious restaurants therein.
All names are reported verbatim as they are written on the street with the exception of the places that have only arabic signs, in which case an arabic-sounding pseudonym that best describes the ambience of the restaurant in question has been assigned.
Restaurants
1. Al Hamad restaurant
2. The Turkey resteurant
3. Bar-B-Que
4. Istanbul restaurant
5. Istanbul restanurant
6. Al Mullah Juice shop
7. Al Habibi Shwarma
8. Broast Taza
9. Al Shweya
10. Al Siyad Restaurant
11. Al Alyadobe Restaurant
12. 4
13. Al Sayed
14. Marhaba Broast
15. The Southern Crescent
16. Yalla Falafel
17. Fish
18. Heena Heena Chicken
19. Aziziyat Habibi
20. The Pink Cockroach
21. The King Fish
22. Marlin-S
23. Hammour Habibi
24. Broast Al Baith
25. Halayat Al Rahaba
26. Broast Badar
27. Hamyada Adan
28. Al Shwamiriya
29. Al Qurayahat
30. Al Washirimi
31. Al Rashamiya
32. Marhaba Restaurant
33. Kasara Al-Zajaj
34. Yalla Bedouin
35. Royal Sayed
36. Spicy Cuisines
37. Juan Cafe
38. Al Aziz bin Sheikh
39. The Sandwich Lab

Al Hamad restaurant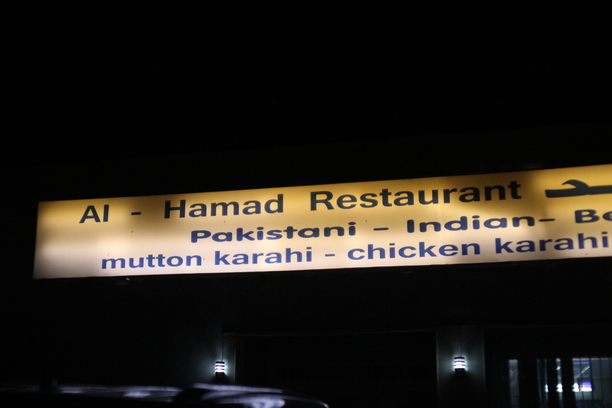 Also formerly known as the ZamZam restaurant. Word of mouth says that the name got changed as the former owner tragically passed away. If this is true, Al Hamad restaurant does honor to the old traditions set forth by the ZamZam. Food is as good as ever and despite the apparent language barrier, ordering is easy and delivery fast. They even have a cabinet on the side where westerners can enjoy their food with their womenfolk in peace. Especially the lamb curry, biryani and daal are recommended. A spicy meal of curry and naan costs around 15 SAR.
Tags: Pakistani, Family seating
The Turkey resteurant
The turkey resteurant is a neat hole-in-the wall in the main street of Thuwal. Selection includes tasteful turkish treats from the grill and the oven. Here 40 SAR will buy you a massive tray of different meats off the skewer and a nice side of bread big enough to feed three people.
By the looks of it, they also serve pizzas and tasty boat-shaped pastries staright off the oven.
They even have an arabic menu and one can place an order in Turkish, Arabic or sign language. Overall, the quality of the food was more than satisfactory and the service good.
Phone: +966563045295, +966507073677
Bar-B-Que
A classic arabic shawarma hole-in-the wall. This place will serve you a delightful shawarma for 4 to 5 SAR depending on your preference. The staff speaks little to no english but sign language will carry you far.
Quality of the shawarma is more than satisfactory, especially if you happen to be a friend of coriander and cardamom. Size of the portions could be bigger.
Tags: Takeaway
Phone: +966557929280, +966556968019
Istanbul restaurant
One of the classier places in downtown Thuwal, this place actually has chairs and tables. The atmosphere is welcoming to the infrequent westerner. This place serves many kinds of skewers and tomato based stews. The service was very polite and the young fellow behind the counter speaks flawless english. The skewers are nice and by the looks of it, the lamb chops seemed really appealing too. Overall a very tasty treat, although a small negative remark goes to the chewiness of the lamb. One can have a dish of grilled meat and a salad side with plenty of bread for less than 20 SAR.
Tags: Turkish
Phone: +966509510050
Istanbul restanurant
The southern little sibling of the more centrally located Instanbul restaurant. One can actually see the same guy behind the counter of both restaurants. Food is quite similar, but the selection slightly smaller than in the Istanbul restaurant. Four skewers of meat, a side salad, bowl of tsatsiki and more bread than you could hope for will set you back some 30 SAR.
Tags: Turkish
Phone: +955509510050
Al Mullah Juice shop
The real name of this juice shop eludes the non-arabic speaker, so we will refer to the place as Al Mullah Juice shop. The decoration of this less fancy juice shop on the northen side of Thuwal consists of innovative use of kitsch and use of tin cans as interior elements. Despite the obvious language barrier, the chef was able to receive and deliver an order of fancy three-layer juice, when given a photo of such a drink on Google Image search. Compliments to the chef! A juice of the fanciest kind will set you back some 8 SAR.
Al Habibi Shwarma
This one-in-all place allows you to sample through the fast food scene of Thuwal using a one pit stop strategy. Selection is not the widest in Thuwal, but what they have comes in both small and large quantities and with or without spicy sauce. Atmosphere is welcoming and there are even a few chairs and tables. The all-in-one style of the restaurant is reflected in the shwarmas that have it all, pickles, lettuce, tomato, chicken, fries and a rich splatter of mayo. This is definitely not a place for those on a diet. Service is given with fluent english, two shwarmas and a mango juice will set you back 19 SAR.
Tags: Shwarma
Broast Taza
In short, Broast Taza is the thing that enables you to eat Al Baik without going all the way to Jeddah and without being pushed against a sweaty crowd. Broast Taza serves both deep fried items and soda. What else could a Thuwali food connoisseur ever need? In addition to a few kinds of what they call "Borast chicken" they also serve shrimp and fish, all of which you can eat with the delicious garlic mayonnaise. 15 SAR will buy a meal that contains enough calories to feed the average cambodian family for a week.
Tags: Chicken
Al Shweya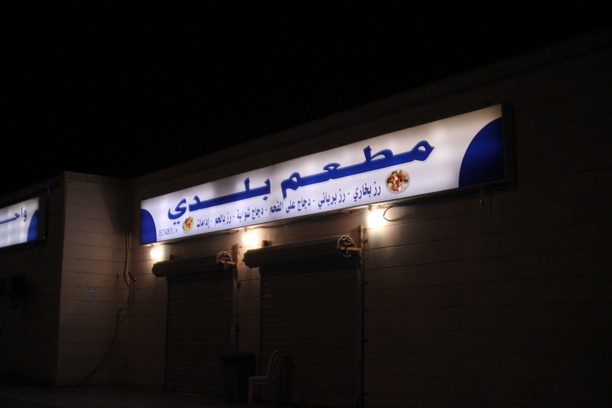 Another one of the cryptic places that only advertises in arabic. Contrary to what the sign outdoors might lead you to believe, the clerk knows numbers and "chicken" in english perfectly. And what else would you need when buying roasted chicken? The interior is inviting and provides seating in both the traditional sit-on-the-floor arabic style as well as in chairs. Grilled chickens sell at a slight discount compared to Tamimi, costing 16 SAR a piece.

Tags: Chicken
Al Siyad Restaurant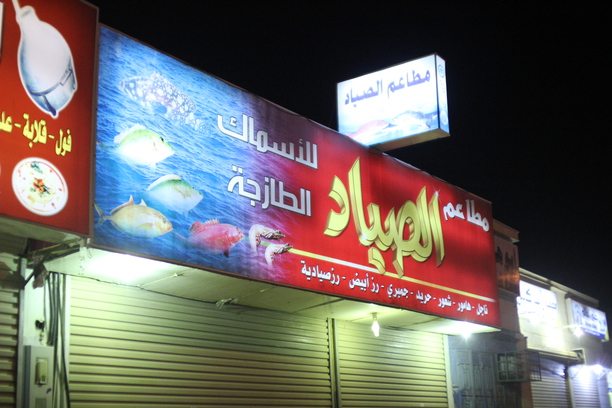 This place might not be the cheapest or the healthiest thuwali restaurant but they certainly set the standard of what shrimp should taste like. Walk in, pick your selection of fish and shrimp, select your sides and come back to collect your fried treat. Like in any good Hejazi restaurant, you will not be disappointed here because there was too little rice. A large meal for two served with fluent english will set you back around 100 SAR.
Tags: Seafood
Phone: +966509347202
Al Alyadobe Restaurant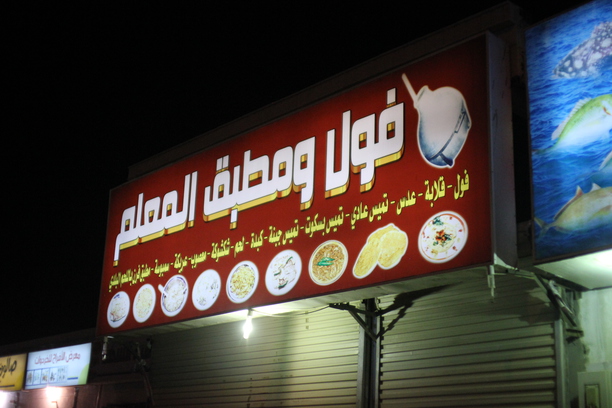 The heart and soul of Thuwali food. This place ranks easily among the worst in terms of convenience in town. But fear not. One does not go to a place like Al Alyadobe for convenience. John F. Kennedy is known to have said "We choose to go to the Moon in this decade and do the other things, not because they are easy, but because they are hard." Had JFK known about this restaurant, he surely would have mentioned about it alongside the lunar flights, as for an average first world traveller this place is almost like a lunar landing. Upon entering the premises, one faces a new world. Bread dough flying through the air, food being stirred on top of something that is best described as a huge flame thrower and more. All this carried out by friendly looking fellas working in the same happy manner as the seven dwarfs in the Disney classic "Snow White". How to order and in which language remains as much a mystery as the true name of this restaurant.
One should take this place as more than food, this is an experience. Without this immersion into the life of a blue collar worker in Saudi, one truly has not seen Thuwal. As one bounces between the counters in the restaurant, one sees true masters of their trade using their stoves and flipping bread off the oven. Worth seeing even if you are not hungry. A hefty chunk of the best bread in town along with tasty we don't exactly know what will cost some 12 SAR here.
Tags: Pakistani
4
Yes. This place is really called "4". Or at least that's the only character of the western writing system visible on the sign. This hole in the wall serves you with all things bread, pizza, flat bread and more. Ordering is easy, inside these guys have a list of all items being sold along with prices, both in arabic and english. So off you go poking fingers, come back in 10 minutes and collect your treat. Food might have some quirks, so keep an open mind. The pizza might not exactly have tomato sauce in it and the honey on labneh and honey bread might not have anything to do with bees and flowers, but hey, we'd expect someone naming their restaurant 4 to take some freedoms regarding the dishes as well. A large pizza will set you back some 23 SAR, small bread based treats around 5 SAR each.
Al Sayed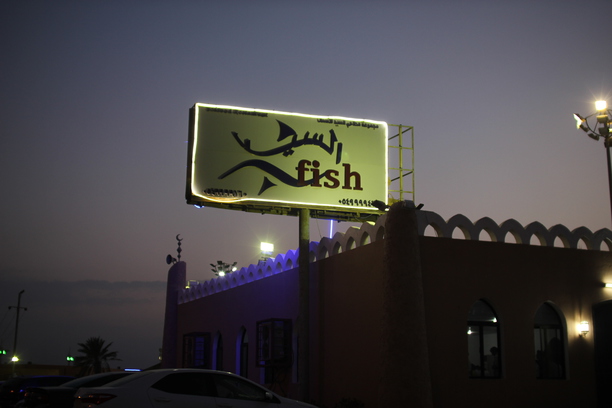 The fancy place in town. This is where the cream of Thuwal comes to be seen. Not the cheapest, but the fanciest. Pick the fish that fits your liking from a wide variety of options, along with shrimps and choose from the numerous options of how to prepare them. Enjoy the seafood with a variety of sides in either the open air lounge area with men or retreat to the privacy of a booth with the womefolk of your tribe. How easy it is to place your order in English depends strongly on the guy on shift, but in most cases you will get a pretty decent service in English. In addition, there is a small booth for the sides where you can go and point fingers and order that way if you hit the language barrier. A tasty and a fulfilling meal will cost you upwards from 50 SAR per person and the waiters are happy to box your leftovers.
Tags: Seafood, Family seating
Marhaba Broast
Surely it does not say much, but this is marginally more health conscious choice than the Taza Broast. In Marhaba Broast you can enjoy deep fried delights with sugar free soft drinks. The place for the adventurous mind. Upon inspection an order of chicken nuggets resulted in fish fingers. Like in Taza Broast, all dishes are accompanied by a hefty amount of fries. The consistency of fried items is not as crispy as in Taza.
A large dish of deep fried chicken or fish along with mushy fries and some bread will cost you 12 SAR.
Tags: Chicken
The Southern Crescent
This joint in the heart of South Thuwal might not seem like the most easily approachable one, but don't let the appearance fool you. Inside, the occasional visitor will be greeted with a nice smile by an old arab gentleman smiling with both of his teeth. A series of hand-waving and sign language gestures will finally enable you to place an order. Unfortunately, the full selection available eludes the non-arabic speaker just as much as the true name of the restaurant. Glancing over the glass, one may see bizarre dough bits and flatbread-omelette-constructions being made. When tried, the sign language random number generator materialised on what is assumably a chicken liver sandwich. For a measly 2 SAR a pop, this admittedly shady looking construction offers real value for money and is recommended for anyone passing through.
Yalla Falafel
Another place, whose full selection remains a mystery. However, upon close inspection, the menu does seem to have western numbers on it. Moreover, these numbers do indicate a bargain. Most of the arabic gibberish items cost no more than 10 SAR a piece. With a little of haggling, the clerk was able to produce a few falafel sandwiches, with a hint of the Yalla falafel magic sauce. A small word of critique must be given to the bitter side taste in the sandwich.
Tags: Takeaway
Fish
Despite what the simplistic name implies, this place actually serves shrimp too. Traditional pick your fish and how you want it kind of place, with some seating options as well - at least if you happen to be a man. Enough so to qualify as one of the poshier places in Thuwal. Service is carried out with good English, but unfortunately the delivery of the goods takes quite a bit of time after the smooth ordering process. Enough so to allow the gentlemen at the deep frying place to ensure a chewy consistency on the shrimps. Also the shrimp from the oven suffers some handicaps, being a tad watery and lacking in flavour. A wise shrimp-eater will phone Fish in advance and show up on scene to pick up the order once it is ready, or simply divert to Siyad. Two people will fill up with fish at fish starting from around 100 SAR.
Tags: Seafood
Phone: +966563277721
Heena Heena Chicken
The chicken place in town. For the same price as in Al Shweya, one gets rotisserie chicken that beats any competition in town. The fact that the sign has no English on it and that the door wishes you "Wellcom" should already tell the client that some trouble with ordering can be expected. Fortunately, upon inspection this trouble worked to the advantage of Heena Heena boys and the rice that was not ordered was quite tasty.
Tags: Chicken
Aziziyat Habibi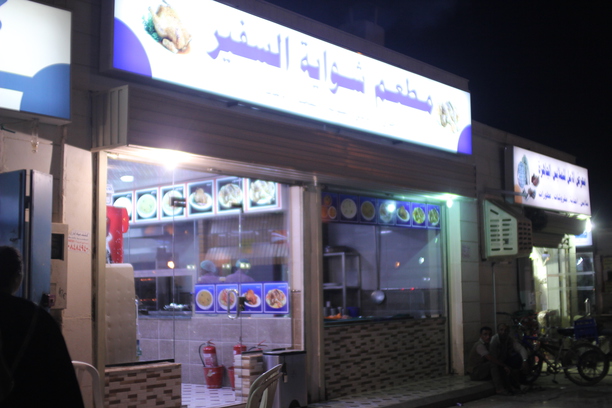 One of the few mid-range places in Thuwal. Atmosphere is kind and inviting, and in terms of ease, the place is a true double whammy: staff understands and speaks good english and in addition ordering food can be done pointing fingers at large and clear colour images that resemble the final product surprisingly much. Like in so many places, you might want to call your family physician if you are able to finish the rice. The chicken that goes along with the rice is not only good price but of good quality as well. Selection includes grilled, rotisserie and other chicken products. A decent sized meal for two costs around 30 SAR.

Tags: Chicken
The Pink Cockroach
Named after the little critter crawling on the floor and the colour of the tiling on the walls, this little restaurant on the side alley offers the Thuwali culinarist a fine treat of pakistani curry. Even a more demanding restaurant-goer will find the quality matching that of Al Hamad, one might even say that this place takes the lead among Pakistani joints in town, thanks to the fresh roti. A group of three inspectors ate large dishes of curry and a pile of delicious Roti for 42 SAR, and placing an order in English was possible with relative ease.
Tags: Pakistani
The King Fish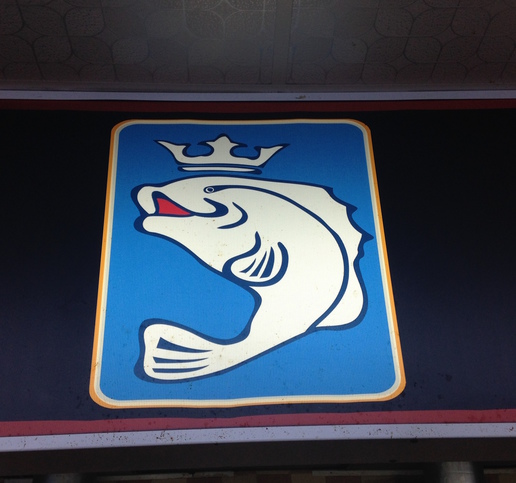 This place has practically no customers and opens to the opposite direction than every restaurant in the neighbourhood is certainly a creepy sight at first. Perhaps this contributed the fact that King Fish was not at the top of the list to be tried out. However, an adventurous culinarist will be rewarded for going the extra mile and stepping into this peculiar establishment.
The staff is not perfectly proficient in english, but luckily they have large colourful images of the dishes being served hung over the counter. The shrimp barely pales in comparison against the blue chip establishment in town, Al Siyad, and prices are more affordable too. A kilo of delicious shrimp will set one back some 70 SAR and if that is enough, one can always boost the menu in the true Hejazi way, with a massive pile of rice enough to feed a village; for next to nothing, of course.
Tags: Seafood
Marlin-S
One of the bigger fish establishments in Thuwal, Marlin-S serves you shrimp and seafood of their own, or optionally prepares the fish you bring with you. The grilled fish has its own, interesting seasoning, but for shrimp and rice, it is recommended to drive further down the road to the fish king. Service is good, but costly, one should prepare to pay in excess of 100 SAR for a meal for two.
Tags: Seafood
Hammour Habibi
One of the less shiny seafood establishments in town, Hammour Habibi offers the true Hejazi experience: Rice and seafood, with the classical on-the-floor seating.
The shrimp ranks between Marlin-S and Fish King, leaving room for the tasty Hammour to fill the role of a signature dish. Service is not the fastest in town, but one can certainly place an order in english with relative ease. A filling meal for two goes for slightly above a hundred riyals.
Tags: Seafood
Broast Al Baith
The new Broast place in town, this restaurant is living the hype. At the time of testing, they even had a couple of posh westerners doing their jetsetting there. A friend of Al Baik will find this place worth a visit, although without the experience of packing oneself against sweaty bodies while waiting for your order in a hot room. This broast joint represents the "Whatever it is, if you can put some mushy fries on it, it'll get better" school of thought, as manifest in their chicken burgers and sandwiches. Fortunately, the fried chicken does not share the mushiness of the fries and burgers. One may comfortably place an order by pointing fingers at a selection of colourful photos of the dishes. A meal for one, with calories for two, will go for less than 15 SAR.
Tags: Chicken
Phone: +966558518465
Halayat Al Rahaba
There is already a pattern of reporting having eaten "I don't know what", and this could be done in the case of this restaurant too. However, we do feel that the peculiar nature of the establishment warrants more detailed a description of what this restaurant serves. Since there was no menu, pictures of plates being served, or other patrons, we are left to assume that what follows is the description of the only dish available.
The preparation begins with a few pieces of dough casually rolled flat and thrown onto a giant frying pan. On the pan, the bread is sprinkled with mysterious "unknown liquid a". After the frying process, the bread is stuffed into an industrial grade meat grinder and plenty "unknown liquid b" is poured into the grinder from a teapot. In addition some thick brown gelly substance is inserted into the grinder. Once the bread has been cycled through the meat grinder thrice, it is piled in layers with some thick creamy paste and plenty of thick syrup-y "unknown liquid c". Finally, the whole portion is topped up with a fair amount of ground cheese.
A large plastic container of this extraordinary dessert-appetizer-we-don't-know-what costs some 10 SAR. You are warmly invited to join the restaurant staff in the garden furniture in front of the restaurant and to enjoy your treat.
Phone: +966553349932
Broast Badar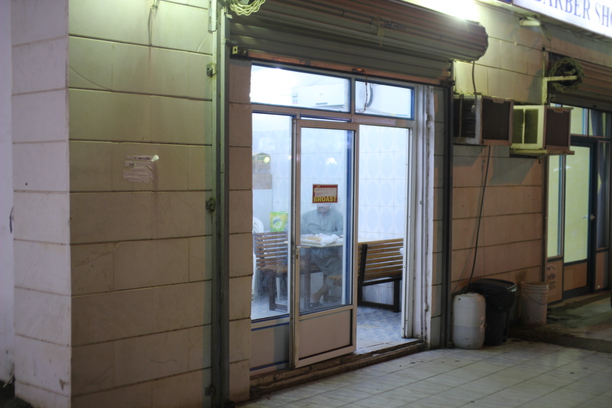 Luckily for the amateur restaurant critic, this establishment stands out from the long list of deep frieries in Thuwal. The selection is simpler than in the competing facilities, but what they do, they do well. Ordering is plain and simple, just tell them how many you want, or use your fingers, if in doubt. In less than five minutes, you'll have a portion of deep-fried chicken and fries, along with not one but two kinds of sauces.
The price for the best Thuwali Broast thus far is 12 SAR, and we're happy to report that it is only the sloppy french fries that keep this restaurant from having a 4/5 rating in the taste category.
Tags: Chicken, Takeaway
Hamyada Adan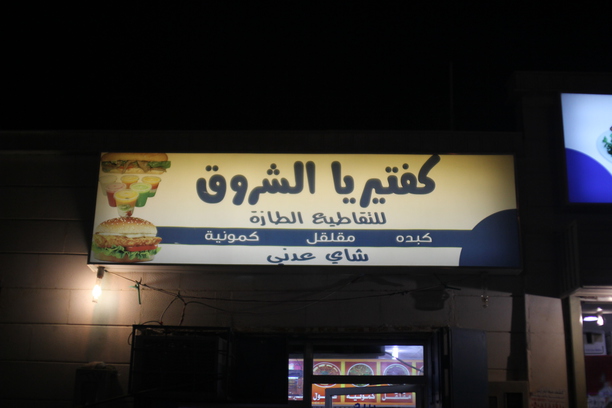 This is probably the cheapest restaurant in the hood. For a measly 10 SAR you will enjoy a platter of suspicious looking, but spicy and delicious cow intestines with Naan and drink. Other dishes are available on the overhead pictures and ordering is as easy as pointing fingers.
If the yemeni guy is on shift and makes you an offer for Chai Adan, make sure to take it. The specialty from his home town is well worth it.
Al Shwamiriya
One of the more suspicious establishments, it is not easy to say what Shwamiriya offers. Upon inquiry, the request for a falafel was declined, but they did serve sandwiches, though. Taste leaves a lot to be sought after, and the fried egg in between the dry bun could do with a bit of dressing. On the sunny side, the prices aren't overwhelming either at 6 SAR a sandwich.
Al Qurayahat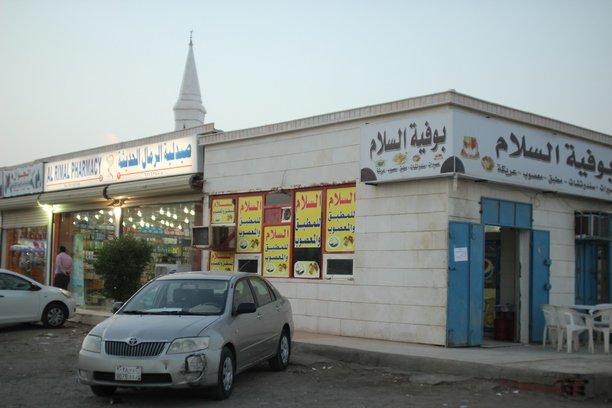 We are not absolutely sure about what this place serves, nor whether this should even count as a separate restaurant or just another exit to Al Washirimi, that is just around the corner. Upon trial, we were able to get some tasty liver sandwiches for measly 3SAR, but the presence of jelly jars leads us to believe that there are some sweet options available too.

Tags: Takeaway
Al Washirimi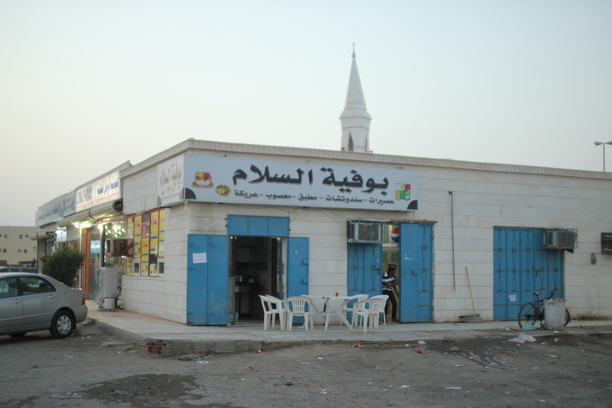 The home of the peculiar rectangular pastries in town. These pastries come in (at least) two styles: Eggy and sweet and Savoury Veggie. On top of this, they also offer something that closely resembles the weird stuff served at Al Shwamiriya.
The taste of the pastries could be improved with a bit of seasoning, the eggy pastry will make a nice dessert. One can place an order literally through a hole in the wall. A pastry will set you back some 5SAR.

Al Rashamiya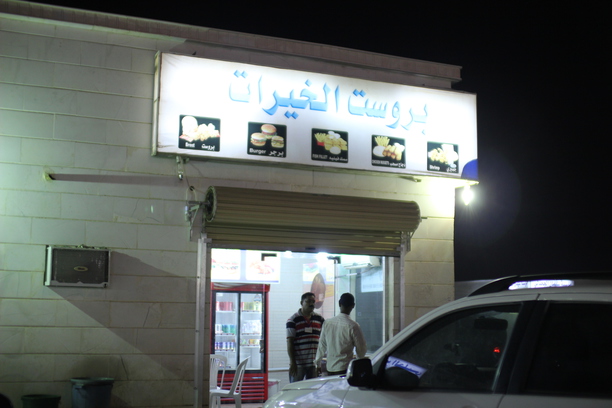 Yet another broast place in town. This place does not quite match what Broast Badar has to offer, but it is certainly not one of the worst Broast places in town.
What really sets this place apart from the competition, is the garlic mayo. It has punch with a capital P. We are happy to report that instead of serving fries that have stood on the counter for who knows how long, they do make fries to order. However, if the fries were crispy when they were made, they certainly were not once they reached the campus.
A portion of mechanically separated chicken with enough calories to feed the state of Mali for a week goes for 12 SAR plus change for drinks. Ordering process is smooth regardless of whether one chooses to place an order using English or fingers.

Tags: Chicken
Marhaba Restaurant
Open since the beginning of 2016, this restaurant provides some fresh and long needed Indian flavour to the Thuwali culinary scene. There is no menu, nor English speaking staff. However, with the help of kind patrons, we managed to place an order.
For a measly 17 Riyal, one obtains a ton of extra spicy biryani quite heavy in coriander, chicken curry and two kinds of bread. The breads offered are some kind of a specialty, and unlike in most of Thuwali places, come from a pan rather than an oven. The lighter color texture is a true experience, for the few readers that know their way around both Ethiopian and Finnish food, it is best described as something that has a texture of ohukainen but the taste of watered-down injira. Overall the food is good for the price, but the biryani could use a youghurt on the side.

Kasara Al-Zajaj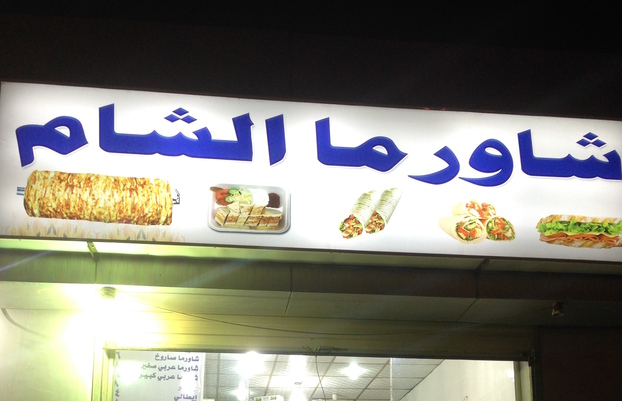 Loosely translated, the name of this establishment is a reference to the state of the glass door that used to seal the entrance of this reastaurant. This heavily grunge-themed Thuwali pearl is clearly popular among the youngster of the town. The taste of shwarmas being offered is more than satisfactory, however the establishment does lose a point for the heavy, thick and greasy texture. The recommendation is to order the shwarmas without the cheese. The special hot sauce is nothing to be intimidated by. 7 Riyal buys you an extra-sized shwarma and on top of the deal you can be seen around the cool teenagers in town.
Tags: Takeaway
Yalla Bedouin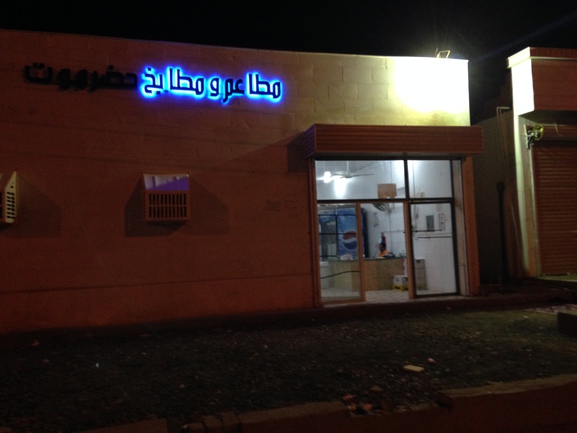 The UG place in town. The non-arabic speaker will find this somewhere between confusing and genuine. There was a group of people seated outside the restaurant on a blanket and it was not perfectly clear who was staff and who wasn't. The clerk/chef/janitor knew the word "half" in English. What was expected to be half a portion of one food and half a portion of another turned out to be half a chicken instead. On the bright side of things, the chicken is probably as fatty as it can be without being deep fried.
A parcel with chicken, onion wedges and a pile of rice larger than life will set you back 13 SAR.
Royal Sayed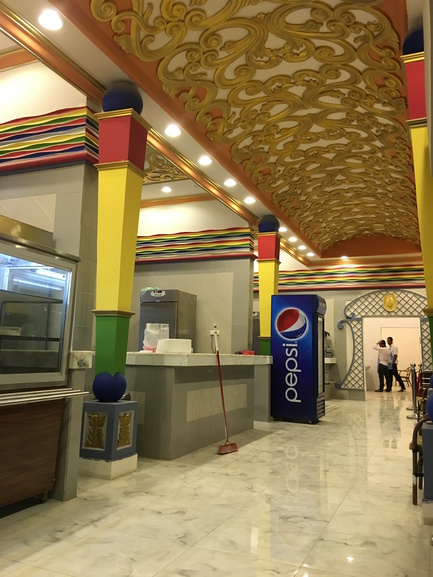 Al Sayed has decided to expand from seafood into the barbeque business and the result is Royal Sayed, a restaurant serving BBQ food in the backside of Al Sayed.
The kitsch decor invites the thuwalites in with its unique mix of bright colors from children's playland and shapes from the palaces of One Thousand and One Nights. Quality is high, as one would assume from Al Sayed, as is the price. We especially recommend the delightful meat skewers. What Royal Sayed loses to Istanbul Restanurant in the lack of tzatziki, it makes up with its muttabal and in-house baked bread.
Despite the lack of english menu, the ordering is relatively easy for the foreigner, at least if there is an english speaker on shift.
A large meal for two will set you back some 60 SAR.
Spicy Cuisines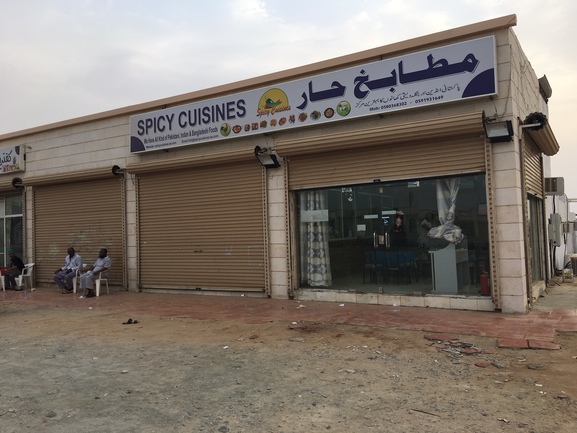 Spicy Cuisines brings the familiar naan-and-curry experience to Southern Thuwal. Just a stone's throw from the slowly-but-surely gentrifying and hippy south end of Thuwal, this establishment serves the hungry Thuwal-wanderer with a good old greasy curry to drown your steaming hot freshly baked Roti in. A whopping meal for two with calories for seven and even a bit more for the next day sets you back no more than 22 SAR. Warmly recommended, especially for the friends of Daal of the less-than-mushy variety.
Phone: +966580368302, +966591931649
Juan Cafe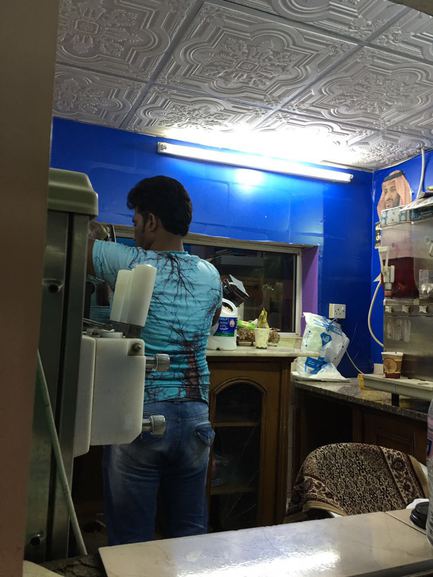 While fueling your car, you might want to take a pit stop at Juan Cafe and enjoy a hot beverage served by the most stylish barrista in town. Juan will serve you a good selection of beverages to the beat of the latest indian pop songs. The rumour has it that Juan has been nominated for the Nobel Prize in Chemistry for his skill of diluting a 819 grams of sugar into a cup of tea. Experiments are yet to be verified by an independent body, but among thuwalites there is little debate over the merits of Juan.
Al Aziz bin Sheikh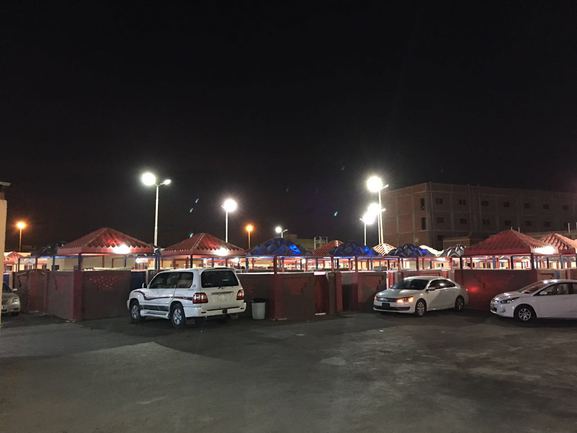 Al Aziz is the main competitor of Al Sayed in the competition for the dominance of the High-End Fish service in Thuwal. With a variety of seating options ranging from outdoors on-the-ground seating to AC pavillions and outdoor huts in the back of the establishment, Al Aziz offers a variety of settings to enjoy one's fish, whether deep fried or grilled. Of course half of the entertainment is picking and choosing the fish from a large selection. After selecting your fish, decide how you want it prepared and you're set to go. Chances are you can find someone on shift who'll serve you in English. A comprehensive meal for two will cost around 150 SAR here.
The Sandwich Lab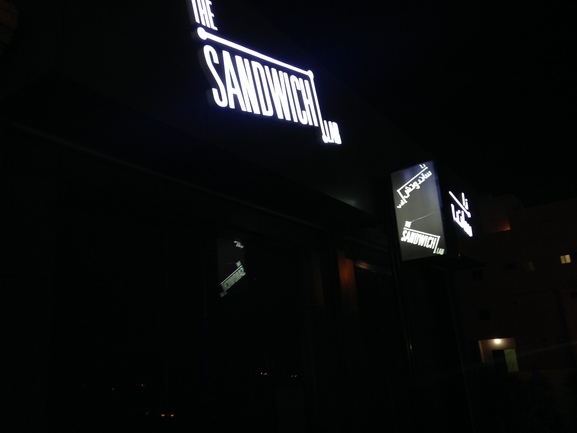 This facility might very well be the end of thuwali cuisine as we know it. Perhaps one day all the restaurants in Thuwal will be replaced by these trendy and gentrified shops. No oil barrel as a decorative element, no more guessing about what the hell they're serving. And hey, not even a passage through a creepy corridor on the way to place an order.
For the one who wants to go to Thuwal, but not experience Thuwal, the Sandwich Lab is the place to go. For the price of a pre-made Tamimi deli sandwich, one can enjoy a made-to-order sandwich in the Sandwich Lab, as the hip thuwalites do.
Decoration inside is as hip as the facade suggests, and placing an order is easy as can be for the non-arabic speaker. If these guys keep up with the quality and the low prices, I anticipate that the Quiznos on campus will soon lose both of its remaining customers.
Phone: +966548494892
Page created on Mon Sep 19 09:20:36 2016. Restaurant locations from OSM. Other content by Juho Häppölä and Grace Gruendler. Available under CC BY-NC-SA 4.0